BEN's travels will be shown in a city-wide display in Benicia in May 2018.
We'd love BEN to find his way to every continent, landmark and exotic place in the world AND to places where people are making the world better (contests for good causes, rallies and marches, hospitals, schools, important gatherings, etc.)
See "Ben on the Move" photos that have already arrived.
Here's how you can participate: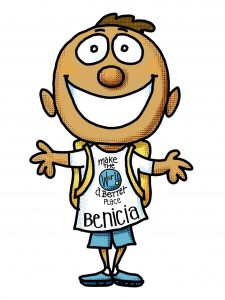 1. Download BEN's picture and print it. Print it in any size on paper, cardboard, or any material you wish (e.g., plastic at a local copy shop — sturdy and waterproof!).
Color BEN yourself (BEN is multi-ethnic!), or use this version that is already colored in, if you prefer.
2.  Share this webpage with friends and family to encourage them to participate, too.
3.  Take BEN on your trips and adventures.  He fits in your pocket, purse, or bag!
Going to San Francisco for the day? Take BEN. Going to another state or another country? Take BEN and include him in your photos. Show BEN next to landmarks, beautiful scenery, or interesting people.
4.  Send us your photos by April 16, 2018.
Include your name and contact information, as well as a description of where and when the photo was taken. If applicable, by all means include a story about BEN's travels!
Send in photos by snail mail to:
Heritage Presbyterian Church
1400 East 2nd St.
Benicia, CA  94510
OR
email them as attachments to betterworldbenicia(Replace this parenthesis with the @ sign)gmail.com