"Never doubt that a small group of thoughtful, committed citizens can change the world; indeed it's the only thing that ever has."
– Margaret Mead, American Anthropologist
"How to Make the World a Better Place" is an ongoing program (2018-2019), spearheaded by the good folks at Heritage Presbyterian Church, of presentations and learning opportunities for people of all ages in the Benicia community.
PRESENTATIONS: These educational events are held in our comfortable Sanctuary Wednesdays at 7 p.m.:
Wed. April 24: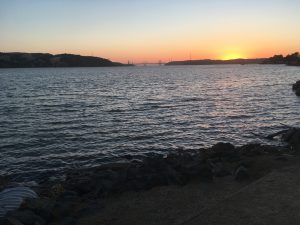 "Benicia By the Bay: Water, Currents, Tides, and Fish"

"If there is magic on this planet, it is contained in water." – Loren Eiseley, author, anthropologist
We live near a beautiful bay that is interesting to watch, allows for many forms of commercial and recreational boating and water-fun, and is home to many varieties of birds, ducks and fish. On Wednesday, April 24 at 7 pm, Heritage Presbyterian Church presents an evening of discussion on the bay around us, the latest in their "Better World" series of learning opportunities for thoughtful Benicians. The Carquinez Straits carries water from the Delta and its tributaries to the San Francisco Bay and out to sea.  Speaker Gayle Vaughan, a local sailor and tidal marsh docent, will describe the tides, currents, and geography of the Straits and Bay-Delta Estuary, touching on wildlife, water flow, pollution, and climate change issues. In addition, we will look at the fish present in our bay. We will also celebrate the beauty of our bay by admiring local artists' and photographers' interpretations of the water around us.
The church is located at 1400 E. 2nd near Military East. For more information about this and other Better World events, email: betterworldbenicia(Replace this parenthesis with the @ sign)gmail.com; visit: www.hpcbenicia.org; phone: (707) 745-6650.
Wed., May 22: Why can't we just get along? Reducing Prejudice and building relationships. Representatives from our local African American, Jewish and Muslim communities will help our attendees understand how prejudice has affected them. We will discuss ways of interacting with diverse people so as to make friends, learn from each other, and help rather than hurt one another.
These program are offered free to the community. There is a suggested $5 donation asked to defray costs for offering these programs, PLUS a request to bring some canned or packaged food for hungry people helped by the Food Bank of Contra Costa & Solano Counties.
FOR MORE INFORMATION:
Email: betterworldbenicia(Replace this parenthesis with the @ sign)gmail.com">betterworldbenicia(Replace this parenthesis with the @ sign)gmail.com; phone church at: (707)745-6650.